System Technology Newsletter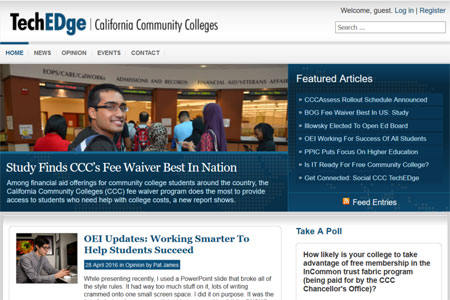 CCC TechEDge, the California Community Colleges technology newsletter, provides current information about statewide technology efforts and the people bringing cutting edge technology to the the California Community Colleges. Its audience includes distance educators, information systems officers, business leaders, the California legislature, and the entire CCC technology community.
Please visit our site at http://www.CCCTechEDge.org. While there, sign up for our eNews updates and explore the features on the site.
From May of 2003 to June of 2009, the TechEDge newsletter was printed quarterly with additional, special issues per year. Visit the TechEDge Web site for a complete archive.

TechEDge is funded by a grant from the California Community Colleges Chancellor's Office and published by the California Community Colleges Technology Center at Butte College.

TechEDge welcomes relevant submissions and feedback. Direct all correspondence to the TechEDge Editor at: This email address is being protected from spambots. You need JavaScript enabled to view it..