Data Governance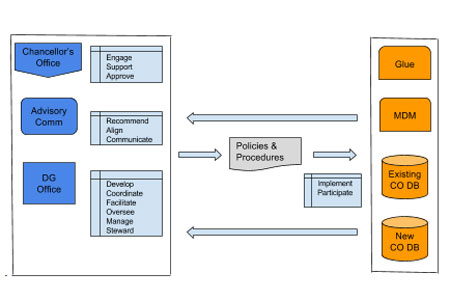 As data-driven decisions increasingly become the expectation, it is critical the right data is being captured and its use maximized. A systemwide data governance committee is being formed to address strategic master data management of the numerous, substantial data projects within the California Community Colleges.
The goals and objectives are as follows:
Establish a systemwide Data Governance Advisory Committee (DGAC) to recommend policy and oversee execution through a Data Governance Office (DGO)


Establish and operate a Data Governance Office (DGO) to operationalize policy across systemwide data sources


Fund and track implementation projects to align current and future data initiatives with data governance policies and procedures.
Under direction of the Chancellor's Office the California Community Colleges Technology Center will work cooperatively with the advisory committee to operate a data governance office to achieve the goals of the initiatives. The CCC Technology Center will coordinate efforts to plan and execute the projects.
Engage and promote inner-office and inter-office cooperation
Provide financial support for the initiative and projects
Provide final authority and approval of policies and procedures
Data Governance Advisory Committee
The DGAC, composed of appropriate stakeholders from appropriate systemwide constituencies, will review and provide guidance and recommendations to the Chancellor's Office for directing the initiative and decision-making specifically by:
Review and recommend a strategy for data governance
Provide sponsorship for the community and data governance adoption
Review and recommend a process for decision-making over data governance policies and procedures
Review and recommend a set of approved policies, standards, requirements and definitions
Review and recommend a Governance Management Plan for the Data Governance Office
Data Governance Office
The DGO will have responsibility to coordinate and facilitate data governance for individual projects specifically by:
Draft proposals for data governance efforts
Follow recommendations of the Advisory Committee to coordinate and execute proposals
Drive the documentation, approval and operationalization of policies, standards and processes
Facilitate ongoing communication to stakeholders across the CCC system
Manage alignment with data owners, e.g. MIS, college CTOs, EdResults, etc.
Oversee the activities of the data stewards
Support data quality efforts including the definition of business rules
Work with the Master Data Management project to implement the Data Governance rules and standards in code.
Work with internal auditors to enforce compliance with policies, standards and regulations
The value of the Data Governance Initiative will be realized through the participation in developing and adoption of policies and procedures by stakeholders in existing and new data projects specifically by:
Participate in committees and sub-committees when invited
Share and consult with the DGAC and DGO
Adopt policies and procedures through implementation projects