Systemwide Technology Initiatives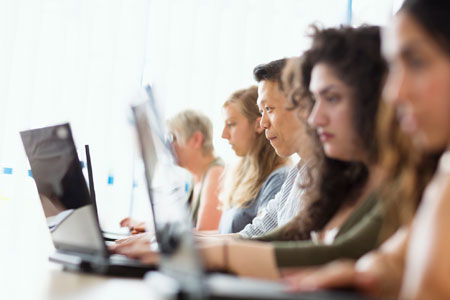 The California Community Colleges Technology Center provides project management, operational, and technology support to CCC Chancellor's Office technology grants including the Common Assessment (CAI), Education Planning (EPI) and Online Education (OEI) initiatives.
The Technology Center's middleware CCC Glue architecture will ensure seamless integration of applications developed by these and other systemwide technology initiatives, and allow data to be effectively shared between colleges to improve administrative decision making and student outcomes.
Common Assessment Initiative
On Oct. 24, 2017, the CCC Chancellor's Office announced the termination of CCCAssess, a project of the CAI that set out to design and develop a set of standardized assessment tools for the CCC. The Chancellor's Office is currently developing options for colleges to follow as they prepare to select assessment measures that are one part of an assessment model increasingly based on a multiple measures approach. For more information visit https://assessment.cccco.edu/.
Education Planning Initiative
The EPI is developing the transcript, articulation, and curriculum inventory elements necessary to facilitate existing college Education Planning and Degree Audit Systems. For those colleges without these systems, a low/no-cost Education Planning and Degree Audit solution is being made available. The initiative will use centralized and integrated technology solutions to better guide students to define and achieve their educational goals, while streamlining the process and providing support to faculty and staff that use the system. More information: CCCEdPlan.org.
Online Education Initiative
The OEI is developing an online course exchange that enables students from any participating college to enroll in and complete a course from another participating college and easily apply that course toward completion of a degree at their home college. It includes student support services to address retention and faculty support for course development and conversion. The goal of the OEI is to increase the number of college associate degree graduates and transfers to four-year colleges and improve the retention and success of students enrolled in online courses offered through the exchange. More information: CCCOnlineEd.org.